2nd PhD and Post-Doctoral Workshop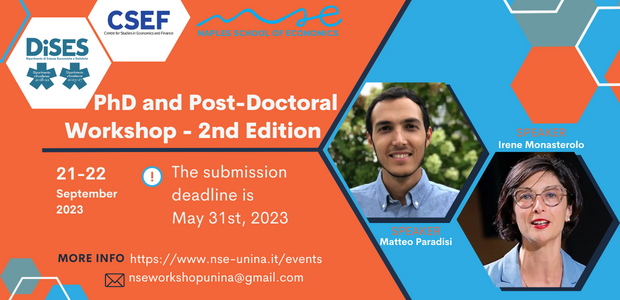 The Naples School of Economics (NSE) of the University of Naples Federico II and the Center for Studies in Economics and Finance (CSEF) are pleased to announce the 2nd Economics and Finance Workshop for PhD and Post-Doctoral Researchers. The workshop will be held in person at Università di Napoli Federico II (Via Vicinale Cupa Cintia, 26, 80126, Napoli) on September 21 – 22, 2023.
The workshop aims to bring together young researchers from all areas of economics and finance to allow participants to receive feedback on their research and promote networking among them sharing experiences, research ideas and, plans for future activities.
The two-day workshop will consist of sessions where selected authors present their own research. Each paper will be assigned a discussant, and authors may be asked to discuss a paper related to their research field.
PhD and Post-Doctoral students are invited to submit their paper or extended abstract to
nseworkshopunina@gmail.com
. Submissions in any field of economics and finance are welcome. Please specify the file name in the following format:
"surname_name_title.pdf
".
The submission deadline is May 31st, 2023. The authors of the selected papers will be notified by July 2023.
Incontro di benvenuto con le matricole della LM Finanza

Venerdì 22 settembre 2023, ore 10:30, presso l'aula C1 dell'aulario avrà luogo l'incontro di benvenuto con le matricole della LM Finanza.

Avviso inizio lezioni corsi triennali primo anno

Gli studenti iscritti o che intendono iscriversi al primo anno di una delle lauree triennali del DISES (Economia e Commercio–CLEC; Economia delle Imprese Finanziarie–CLEIF; Scienze del Turismo ad Indirizzo Manageriale-STIM) sono invitati a leggere con attenzione il seguente documento con le istruzioni per accedere alle lezioni:

avviso-inizio-lezioni.pdf

Le lezioni inizieranno mercoledì 20 settembre.

Esiti Bando di Concorso - Dottorato in Economia 39° ciclo

Esame ammissione LM Finanza

L'esame di ammissione alla LM Finanza avrà luogo giovedì 28 settembre, ore 10:00, presso l'aula D16 del Dipartimento.

Avviso Seduta di Laurea Triennale Settembre 2023

In applicazione del nuovo Regolamento Didattico di Ateneo, è stata prevista una seduta di Laurea Triennale nel mese di Settembre 2023 per tutti gli studenti in debito della sola prova finale (esami finiti entro luglio 2023).